Our  Award-winning Balsamics
Espresso Balsamic Drizzle, our perennial bes
t-seller, has been turning heads and eliciting OMG responses across the country and around the world. You might imagine it with a grilled sirloin with a bit of gorgonzola, or with roasted brussel sprouts.
The Spiced Balsamic Red
uction pairs bea
utifully with berries or salads or gamier meats like venison or duck.  This is the most traditional of our balsamics in character - the blend of woodsy spices perfectly complement the barrel aged notes of fine balsamics.
Our Curried Balsamic brings together flavors from two different parts of the world and is divine with salmon, pan-seared sea scallops and roasted veggies. 
And our Chocolate Balsamic is to die for!  Serve it simply with strawberries and mascarpone or with raspberry bread pudding, with roasted or grilled tropical fruits, a bit of dense chocolate cake and a side of gelato.


Grilling & Roasting Rubs
For a quick and easy meal, roasted and grilled meats are hard to beat.
Our rubs are perfect on their own or make for fantastic marinades with a splash of
olive oil and lemon.
Gentle Jerk
Penobscot Bay Blend
Oaxacan Mole
Romesco Rub
Sahara Harissa Rub
Tunisian Zataar
Tuscan Hill Town Porchetta Rub
Windward Island Roasting Rub
Our Sahara Harissa is also amazing on roasted root vegetables.
Or blend it with softened butter for the perfect sweet potato topper!
Finishing Salts & Peppercorn Blends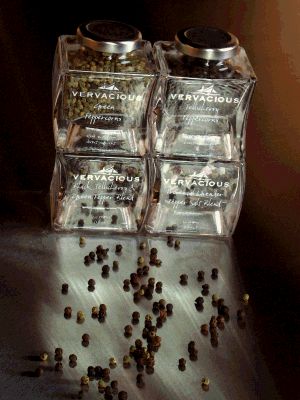 All Salts are not created equal. From our Bay de Biscay Fleur de Sel – simply the finest
salt available anywhere, to our Super-Savory Cinnamon Salt, once you try these unique finishing salts,
you will be unable to live without them.
Bay of Biscay Fleur de Sel
~
Mexican Chili Pepper Salt
~
Saffron Fleur de Sel
~
Sichuan Pepper Salt
~
Sicilian Sumac Salt
~
Spicy Curry Finishing Salt
~
Star Anise Salt
~
Super Savory Cinnamon Salt
And our peppercorn blends are nothing to sneeze at either. Provençal Lavender Pepper Salt Blend
marries Tellicherry pepper, green peppercorns, dried shallot and fragrant lavender for an aromatic
change of pace for your pepper mill!
Top-quality chocolates and cocoas have long been a passion – these xocolates are inspired by the cozy cafés in our favorite cities and towns of Europe and are guaranteed to excite the senses and take the chill off a cold afternoon.
Aztec Spiced Hot Pepper Cocoa

~

Espresso Xocoa

~

Hot Chocolate Orange

~

Sicilian Sambuca Cocoa

~

Viennese Cinnamon Cocoa

~

Vanilla Bean Cocoa



"Heidi, your cocoas rock!" - Mario Batali