~
Vervacious Invited to Prepare Amuse Bouche Course at Portland Harvest on the Harbor James Beard Award Winners Dinner
Vervacious was honored to be selected to prepare the opening amuse bouche course to 200 James Beard Award Winners Dinner attendees. Vervacious offered three little bites featuring some of Vervacious' favorite products
Honeydew Melon Skewers
with Vervacious Star Anise Salt
~
Vervacious Wild Maine Blueberry Mignonette
Lobster Salad
~
Vervacious Espresso Balsamic Roasted Figs
with Pineland Farms Feta &
Ducktrap Smoked Trout Chiffonade
Vervacious Featured in August 2010 
"O" The Oprah Magazine - Love That!
"Stacked on the counter, jars of gourmet condiments from Maine-based fine foods company Vervacious become works of art. In flavors like Chocolate Balsamic, they taste just as refined."
July, 2010: Vervacious Opens Flagship Store on Portland Maine Waterfront
Vervacious opened its flagship store on the historic Portland Maine waterfront over the summer of 2010. "We're thrilled to have the perfect venue to offer tastings of the complete line of Vervacious products!" says Heidi Stanvick, Vervacious owner. "And Portland Maine is the perfect place for our flagship store given Portland's deserved reputation as a foodie Mecca."
Come check us out: 227 Commercial Street Portland Maine
Vervacious Strikes Gold at 2009 Fancy Food Show!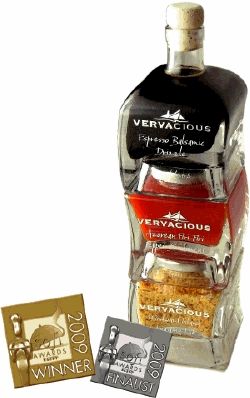 Vervacious is thrilled to receive the gold trophy for "Outstanding Packaging Design" at this year's show! It seems everyone loves our product design - "They really are gorgeous!" said Chef Ming Tsai who emceed the awards ceremony and announced the winners.
Vervacious Takes home "Outstanding Product Line" Silver at 2009 Sofies!
The "Outstanding Product Line" award is especially gratifying as it is arguably the top honor awarded by the industry's premier professional organization: The National Association for the Specialty Food Trade (NASFT). A panel of distinguished judges winnow down two thousand entries to arrive at just a handful of finalists (three Silvers).
March 2009 - Vervacious Espresso Balsamic Drizzle selected as a "Rachael Ray Fave"
Vervacious Espresso Balsamic Drizzle awarded "Best New Product", 2008 New England Product Trade Show
"Vervacious Cheese Accompaniments -- Sexy, beautiful bottle with gorgeous contents, great with cheeses."
Gourmet Retailer, December 2008
"When I saw these Vervacious spices, teas, and sauces in the corner, I uttered a rather embarrassing squeal of delight. These beautifully crafted little glass jars are curved and structured so that they stack on top of one another to form a wavy glass tower.  It transforms an assortment of teas/spices/sauces/cocoa into a mini sculpture.  I must have looked a sight: stacking these jars as giddily as a baby who has just gotten her first blocks. Wouldn't you do the same? There is something very satisfying about having an assortment or collection of things; perhaps it's the 'collect-em-all' mentality; or maybe just the aesthetic pleasure of seeing things that are obviously a 'set' yet are varied and individual. I think Vervacious' clever design plays off of and elevates this joy. I also love how the glass really showcases the beautiful color and texture of the product. The whole packaging experience is one of a truly desirable, high-quality, artisanal product."    - Melody Chang - Box Vox
"I discovered Vervacious while visiting Maine and couldn't wait to bring it into our stores. The packaging is as gorgeous as the contents are delicious!  And, because the labels are removable, you can enjoy using these beautiful  jars again and again...just one more reason why  I think it makes a fantastic and reasonably-priced gift." - Joan, Hammertown, Hudson Valley, NY
"Frankly, everything they do sounds intriguing."
- Miami Sun Sentinel
Vervacious has a unique story to tell: We're a husband and wife team who left our homeport in Maine aboard our sailing ketch Verve in search of a little adventure and a lot of exceptional flavors. At every port we'e discovered something new and truly wonderful. Now we're bringing our discoveries home in a dazzling array of specialty food products. Not your typical jams and jellies, either. Mignonettes inspired by the cold-water delicacies of Maine married with sunny azure Mediterranean flavors. Or salts and rubs inspired by Caribbean street food and timeless North African spice blends.  Or innovative Southeast Asian inspired gastriques and finishing sauces that elevate ordinary table fare to the sublime. There is a world of undiscovered tastes waiting to be explored!
Come set sail with us!